A Figure of a British Female Traveler, Isabella Bird

■ A woman with wings – Isabella Bird

'A woman with wings' is a compliment to Isabella Bird from Ms. Katou Yukiko, a writer who used to win the Akutagawa Prize in the 80s. Yukiko is so attracted to Bird that she even used her compliment to Bird as a title of one of her books. She thinks that Bird is so amazing throughout her lifetime and there is only a few like Bird to have wings, especially among the ladies.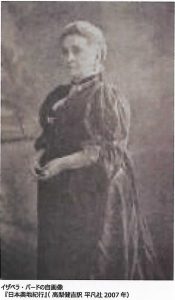 Isabella Bird was born as the eldest child of a pastor in Yorkshire of England in 1831. She traveled in Canada, America, Australia, New Zealand, Hawaii and etc, and was an open minded woman unconstrained by tradition.



About 140 years ago in 1878 (Meiji 11), she visited Japan when she was 47. As she thought of exploring the province that is not yet known to foreigners in this country, she took a Japanese youth, Ito, to be her interpreter and a personal assistant to Nikko, Tohoku and then Hokkaido. In Hokkaido, they first arrived at Hakodate, and from there, traveled to Morimachi, Muroran and Shiraoi via the coast, and then headed to the interior Ainu village from Sarufuto (currently known as Hidaka-cho Tomikawa)